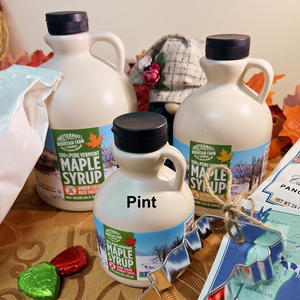 100% Pure Vermont Maple Syrup, Pint Jug (16 oz.)
The "giftable" syrup container
The pint jug is the perfect size for gift-giving. It's economical and the right amount of syrup for recipients that appreciate pure maple syrup, but perhaps don't consume a lot of syrup and make breakfast recipes etc. on special Sundays. Though maple syrup is REALLY good as a coffee sweetener.

NEWS FLASH! We are now very excited to offer Butternut Mountain Farm 100% pure Vermont maple syrup in all three most popular syrup grades; Golden Color with Delicate Taste (formerly called "Fancy"), Amber Color with Rich Taste (formerly called "Medium Amber"), and Dark Color with Robust Taste (formerly called "Grade B maple syrup"). The new Vermont syrup grading nomenclature may be a bit confusing, but rest assured, it's still the same delicious top notch syrup we've all known for generations.
Each syrup jug, depending on the syrup grade you select, will have a label on the front that designates the syrup flavor and taste.
Important FYI - Pure maple syrup is expensive because of the significant amount of work involved to boil it down from maple tree sap to pure syrup, and then container it into what you find on store shelves. Maple sugaring is very labor intensive, coupled with the fact that it takes 40 gallons of maple tree sap to produce just one gallon of pure syrup. And we haven't even talked about shipping costs! So, when you buy syrup, it may seem expensive, but in actuality, it's well worth the money. It's a healthy all natural (in the truest sense of the word) sweetener that supports local-family owned businesses and surrounding economies.
Gift Messaging - You can include a gift message for each item individually on each product page, or a gift message that applies to the entire order during CHECKOUT.
---
We Also Recommend