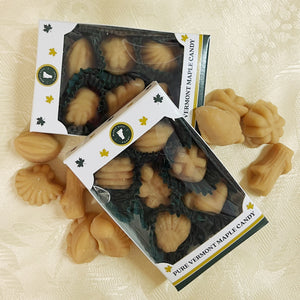 6-piece Assorted Shapes "Fancies" Pure Maple Sugar Candy Gift Box
The perfect gift for co-workers!
From a local maple sugarer in St. Albans Vermont we get our assorted shapes, or "fancies", as we call them, maple sugar candy gift boxes. These delicious melt-in-your-mouth pure maple sugar candies are made with pure Vermont maple syrup. What's great about the assorted candy shapes is that they are ideal for every occasion from afternoon coffee or tea with a friend to break-time at work, even as bite-sized travel candies. Pass out each 6-piece box to co-workers, church friends, and neighbors. Use them as stocking stuffers too!
Each candy weighs approximately .25 oz. Six bon bon assorted shapes per box. (Net Weight: 1.5 oz.)
Gift Messaging - You can include a gift message for each item individually on each product page, or a gift message that applies to the entire order during CHECKOUT.
Keeping the candy fresh - Our maple candy is made in small batches and shipped fresh with a 6 week shelf life, after which the candy is still eatable, but simply starts to harden. You can extend the shelf life by refrigerating the candy in a Zip Lock bag.
**Made in a facility that also produces products that contain; peanuts, tree nuts, dairy, and wheat.
---
We Also Recommend