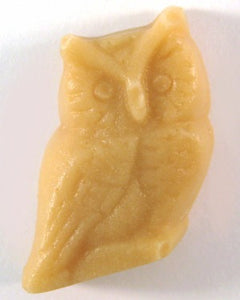 Bulk Pure Maple Sugar Candy OWLS, 0.4 oz. ea.
Made with pure Vermont maple syrup
Please Note: Minimum order quantity of 48 pieces required for bulk pricing. Lesser quantities are subject to re-bill at full retail price prior to shipment.

WHY IS OUR CANDY THE BEST? Learn more here....
We introduced the owl-shaped maple candy a few years ago at the request of a customer who wanted them for Halloween, and they've been a popular candy ever since - both at Halloween and throughout the year.
This maple sugar candy reminds us of the Laughing Owl, a gentle-natured bird which is now extinct but we hope may still be alive somewhere in the world - you just never know for sure.
Each owl candy is 0.4 oz. and measures 1" wide x 1-3/8" tall x 1/2" thick.
What is "bulk pricing"? Simple. Online/website bulk maple sugar candy pricing is in between Wholesale Pricing and general retail "in store" pricing. These same heart-shaped candies sell for $0.99 each in our store and $0.63 each to our wholesale accounts. So when you purchase volume amounts on our website, we lower the Retail Price without undercutting our Wholesale customers. And if you want to SAVE MORE...

Get 10% OFF your first order, and 10% OFF all subsequent orders over $75! Simply "Chat with us" below for your unique Discount Code.
Keeping the candy fresh - Our maple candy is made in small batches and shipped fresh with a 6 week shelf life, after which the candy is still eatable, but simply starts to harden. You can extend the shelf life by refrigerating the candy in a Zip Lock bag.
**Made in a facility that also produces products that contain; peanuts, tree nuts, dairy, and wheat.
---
We Also Recommend