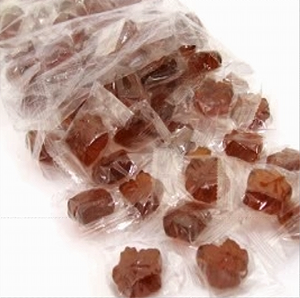 Hard Maple Leaf Candies by the Pound
Made with Pure Maple Syrup
Please Note: For more than 1 lb. of candies you can order multiples or visit our Bulk Hard Maple Candy page here....

We sell thousands of these delicious candies every year. Individually packaged hard maple candies are outstanding! And no need to worry about shelf life, because unlike soft maple sugar candy, hard maple candy is non-perishable. Enjoy them at your leisure today, tomorrow and months from now! Ideal as office candies, hotel pillow candies, birthday party candies, or party favors. Each candy is made with approximately 30% pure maple syrup.
Each candy measures 1" wide x 1" tall x 5/16" thick. 1/4 (0.23 oz.) each. Approximately 70 candies in the 1 lb. bag, 35 candies in the 1/2 lb. bag, and 17 in the 1/4 lb. bag.
Who buys our hard maple candies?
Hard candies are a wonderful option for customers who live in the south or where ever it's hot, because these candies withstand the heat better than soft maple candy. We've shipped these candies as far south as the Florida Keys, but, not too long ago we also had an order from the far north. The Royal Canadian Mounted Police are now enjoying hard maple candies in their office too. And, we have even shipped these candies to the Vatican City in Rome. Try a few today and we're certain that if you like hard candies, you'll love these!

Gift Messaging - You can include a gift message for each item individually on each product page, or a gift message that applies to the entire order during CHECKOUT.

Ingredients - pure maple syrup, glucose, sucrose. In other words, maple syrup and corn syrup.
Please Note: The American Academy of Pediatrics (AAP) recommends that children ages 5 and younger should not be given hard candies.1. For safety, we suggest that hard maple candies and sugar coated nuts (such as the ones sold on this website) not be given to children under the age of 6 and children 6 years and older should be supervised while eating hard candies or nuts.
Source: 1. www.huffingtonpost.com
---
We Also Recommend