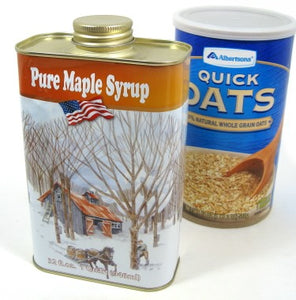 Pure Maple Syrup Quart Can, MADE IN AMERICA, Quart Tin (32 oz.)
Maple Syrup, MADE IN AMERICA!
This syrup tin is extremely popular and inventory fluctuates, so please be sure to order early if you're intending for this item to be a holiday gift.
Of course ALL the maple syrup we sell is 100% pure Vermont maple syrup, but we named this tin "MADE IN AMERICA" because of the USA flag on the front. Though the trend is towards plastic jugs (cheaper to ship) and glass (better for the environment), we still wanted to offer our customers a couple syrup tin container options as well. After all, tin containers were used for generations, long before plastic became the de facto container option. Plus, this maple syrup container ships quite nicely. Filled with Amber Color with Rich Taste 100% pure maple syrup from Northern Vermont.
Amber Color with its' rich taste is the middle of the road syrup grade, and by far the most widely purchased maple syrup grade. An all-round syrup that can handle everything from breakfast recipes to cocktail enhancer. Each maple leaf syrup bottle comes with a gift tag and gold elastic band.
Gift Messaging - Inside the gift tag we'll hand-write your gift message. You can include a gift message for each item individually on each product page, or a gift message that applies to the entire order during CHECKOUT.

---
We Also Recommend